Newsletter - Publication 108
01th Aug 2021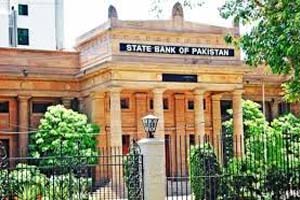 Top three destinations of Pakistani exports during FY 2020-21: SBP
The United States of America (USA) remained the top export destination of Pakistani products during the fiscal year (2020-21), followed by United Kingdom (UK) and China, according to the State Bank of Pakistan (SBP). Total exports to the USA during July-June (2020-21) were recorded at US$5029.400 million against US$3915.226 million during July-June (2019-20), showing growth of 28.45 percent during the period under review. This was followed by UK, where Pakistan exported goods worth $2047.079 million against $1638.544 million over the previous year, showing increase of 24.93 percent. China emerged as the at third from top export destination, where Pakistan exported products worth $2043.206 million during fiscal year under review against $1663.962 million in the previous fiscal year, showing growth of 22.79 percent, SBP data revealed. Among other countries, Pakistani exports to United Arab Emirates (UAE) stood at $1487.279 million against $1588.330 million during last year, showing decrease of 6.36 percent; while exports to Germany were recorded at $1511.227 million against $1302.991 million, the data revealed. Exports to Holland stood at $1118.093 million against $982.263 million. Pakistan's exports to Spain were recorded at $801.778 million against $870.920 million whereas exports to Italy stood at $773.425 million against $751.921 million.
---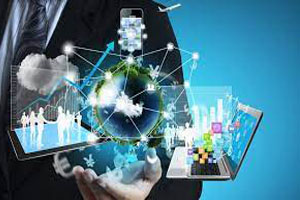 IT exports rise 47pc to $2.1bln in FY2021
Pakistan's information technology (IT) exports soared 47 percent to $2.1 billion in the fiscal year ended June 30, according to latest figures from the State Bank of Pakistan (SBP). The country fetched $1.4 billion in IT exports in July-June FY2020. IT exports increased 50 percent year-on-year to $214 million in June. These exports stood at $143 million in the corresponding month of the previous fiscal year. Similarly, the import of IT products and services also rose to $550 million in FY2021 from $385 million a year earlier. The higher growth in the country's technology product and services exports was due to the coronavirus pandemic related rise in freelancing activities. Telecommunications, computer and information services are the major items of services exports. The country's IT services firms continue to make deeper inroads into the global market, utilizing the explosive growth in demand amid the pandemic for a wide range of IT services. Besides, the preference of the consumers towards using digital channels to fulfil their day-to-day needs and meet payments and the measures taken by the central bank has contributed to the rise in the exports of IT services. Electronic banking transactions rose 29 percent to Rs22.5 trillion in the third quarter of FY2021, according to SBP's data. The SBP allowed exporters of goods and services, including IT based services, to retain a certain portion of their export proceeds in their special foreign currency accounts. The growing usage of digital financial services due to the coronavirus pandemic is boosting the growth of startups in Pakistan. Coronavirus lockdowns have pushed economic activity online. Startups in the e-commerce, fintech, transport and healthcare sector are getting a boost. However, the encouraging information and communication technology exports were offset by a weakening in receipts from other services sectors, including the transport.
---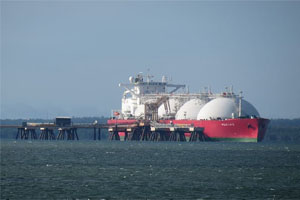 Pakistan purchases expensive LNG for Sept
Pakistan has purchased the most expensive Liquefied Natural Gas (LNG) in its history with LNG deals for September at around $15 per million British thermal units (MMBtu). As per the report, it is the highest since the nation began LNG imports in 2015. Pakistan has made these pricey LNG deals for September under spot purchase. The deals were essential to save the country from potential power outages as power generators will be the main consumers of the latest cargoes. The purchase would put burden on the already cash-strapped Pakistan economy, which battles a widening current account deficit amid rise in the import bill. The country witnessed a single month's record highest import figure of $6.3 billion in June this year while the current account deficit remained $1.3 billion in this period. Reacting to public criticisim of expensive deal a statement issued by the Petroleum Division says, "Pakistan LNG Ltd (PLL) board was forced to accept the four LNG 'spot' tenders at $15 per mmBtu for September 2021; otherwise, the replacement fuel (ie furnace oil), which is even more expensive, would have resulted in September power prices higher by at least 20 per cent."
---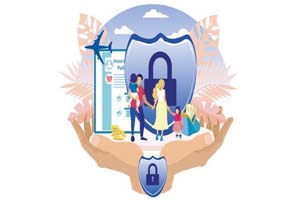 Pandemic hit individual life insurance policy sales in 2020
The insurance sector registered a decline in the sale of new individual life policies (first-year and single premiums) in 2020 owing to the imposition of the coronavirus-related lockdown, according to a recent report by the financial sector regulator. Insurance distribution channels like bancassurance were unable to reach out to clients as retail banking activities remained limited last year, said the State Bank of Pakistan (SBP) in its annual financial stability review. First-year, second-year and single premiums under individual life policies decreased by 9.6 per cent, 18.4pc and 9.4pc, respectively, in 2020. However, gross premiums for the life insurance sector increased 2.9pc to Rs201 billion in 2020 despite the onset of the pandemic. The SBP's disaggregated analysis showed growth in group premiums provided the impetus. They increased Rs5b to Rs26bn in the year under review. "This 25.6pc year-on-year increase in group premiums occurred on the back of expansions carried out by the public life insurer in the National Health Insurance Programme and Khyber Pakhtunkhwa's Sehat Sahulat Programme," it said.
---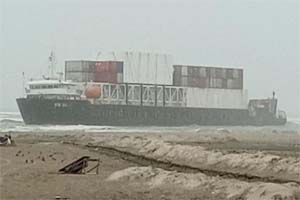 Cargo ship beached at Karachi's Sea View after losing anchors due to rough weather
A cargo ship that beached at Karachi's Sea View early on Wednesday – July 21, after it lost its anchors due to rough weather remained at the beach as we file this, however authorities have defuelled the ship and contemplating on salvage actions. According to the Karachi Port Trust (KPT), MV Heng Tong, a cargo ship coming from Shanghai was on its way to Istanbul, Turkey, and did not completely enter the Karachi Harbour, although it was anchored in Pakistani waters awaiting a crew change. The rough sea caused the vessel to lose its anchors and it started drifting towards shallow water. The ship was already in shallow water by the time the KPT was informed about the situation. The KPT then alerted the Pakistan Maritime Security Agency (PSMA) which couldn't provide much help as well. According to the KPT, the harbour's navigation channel was not impacted by the ship floating off to the shore. The ship, owned by a Hong Kong-based cargo company, is 98 metres in length and 20 metres wide. It was built in 2010 and has a capacity of 3,600 deadweight tonnage. Normally, all ships raise Pakistan's flag on deck upon entering Pakistan's waters. But MV Heng Tong is flying a Panama flag as it never thought of making the change in the emergency that it found itself in. Several Karachiites headed to the beach after seeing news of the ship on television. Some beachgoers wondered about the containers loaded on the ship and if the cargo would get spoiled while others wondered if the strong tides would break the vessel. The Abdul Sattar Edhi Avenue has barriers on either side to prevent people from heading to the Sea View beach as Section 144 had been imposed to keep people out of the water due to the rough sea in the monsoon season.
---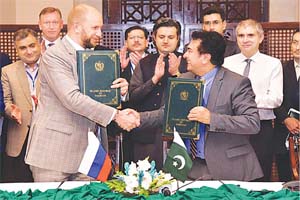 Terms of accord for gas pipeline signed with Russia
After four days of negotiations, Pakistan and Russia on Thursday signed Heads of Terms (HoTs) of shareholders' agreement for construction of about 1,100km gas pipeline from Port Qasim in Karachi to Lahore at an estimated cost of $2.5-3 billion by the end of 2023. At the signing ceremony, Pakistani side was led by Petroleum Division Secretary Dr Arshad Mahmood while Deputy Director of Department of Foreign Economic Cooperation and Fuel Markets Development of Russian Ministry of Energy Alexander Tolparov led the visiting team. The two sides also signed minutes of the third meeting of the Russia-Pakistan Joint Technical Committee (JTC) for implementation of the Pakstream Gas Pipeline Project – commonly known as North-South Gas project. The two sides agreed over 74:26 per cent shareholding in the special purpose vehicle (SPV) for the project. This envisages both 'put option' and 'call option' to Russian side which means its entities can move out of the project if it is not found feasible or increase its shareholding to 49pc if it is able to provide attractive financing arrangements acceptable to Pakistan. In any case, Pakistani entities will maintain majority shareholding. Russian side will arrange funding for foreign exchange component through suppliers' credit or typical project financing to cover imported items like steel, consultancies, pipelines and related products and materials not available in Pakistan. The concession agreement for the pipeline will remain effective for 25-30 years. There will be no throughput (gas quantity) guarantees but payment of tariff and return to the Russian entities / consortium will be ensured through normal security package and standby letters of credit as available to international investors, including independent power producers. The pipeline size was agreed at 56-inch diameter to cater for next 30-40 years of energy needs in the country that will ensure 700-800 million cubic feet per day (mmfcd) of free gas flow which can go up to 2,000mmcfd with compressors.
---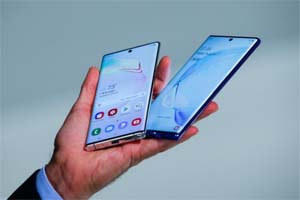 Lucky reaches deal for producing Samsung mobile devices
Lucky Motor Corporation (LMC) has signed an agreement with Samsung Gulf Electronics Co, FZE for producing Samsung mobile devices in Pakistan. In a stock filing , Lucky Cement Ltd (LCL) has said that its subsidiary LMC, which is currently engaged in business of manufacturing, assembly, marketing, distribution and sales of Kia and Peugeot vehicles, has also initiated the process of seeking necessary regulatory approvals to carry on the business and in this endeavor, it has filed an application with the Pakistan Telecommunication Authority (PTA) for securing the license. The production facility for producing Samsung mobile devices would be located at LMC's existing plant facility where vehicles are being rolled out at Bin Qasim Industrial Park, special economic zone. The production facility is anticipated to be completed by the end of December this year. Lucky Cement said further information on the amount contemplated to be invested in the production facility and the capacity shall be discussed between Samsung and LMC in due course of time. The Engineering Development Board (EDB) had approved Mobile Device Manufacturing Policy (MDMP) in 2020 and so far 21 companies had been given the green signal for cellphone assembly authorisation from March to June 2021. Lucky owns 71.55pc of LMC, and expectations are high for this latest venture as Lucky Cement has been hugely successful with its recent initiatives like bringing KIA (another South Korea based company) to Pakistan to assemble automobiles and acquisition and then the turnaround of ICI Pakistan (ICI), amongst others. In terms of value, the market size of mobile sets in Pakistan is estimated at $2.5bn, based on imports data provided by Pakistan Bureau of Statistics.
---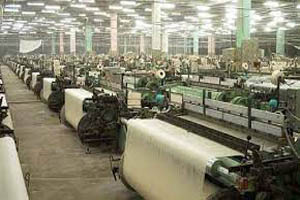 Big industry grows 37pc in May
The Large-Scale Manufacturing (LSM) continued its growth momentum in the fourth consecutive month as big industrial sectors' output rose year-on-year by 36.84 per cent in May, data released by the Pakistan Bureau of Statistics (PBS) showed. The overall output of Large-Scale Manufacturing Industries (LSMI) increased by 14.57pc in July-May 2020-21 compared to 11MFY20. However, on a month-on-month basis the industrial output shrank 3.93pc. The LSM data released by the PBS after collecting it from the Provincial Bureau of Statistics (BOS), the Oil Companies Advisory Council (OCAC) and the Ministry of Industries showed that the OCAC recorded month-on-month decline of 8.32pc in May against previous month, and 4.15pc growth year-on-year in May against May 2020. The data showed that the Ministry of Industry-related sectors witnessed negative growth of 6.49pc month-on-month in May, while on a year-on-year basis it registered a growth of 45.06pc. The PBS data said that LSM-related data to the BOS month-on-month witnessed 2.35pc growth in May against the previous month, and on YoY basis, BOS witnessed a growth of 29.59pc in May against May 2020. The production in 11MFY21 as compared to 11MFY20 has increased in textile, food, beverages and tobacco, coke and petroleum products, pharmaceuticals, chemicals, automobiles, fertilisers, paper and boards and iron and steel products, while it decreased in wood products, engineering products, electronics, rubber products, and leather products. Textile — the top contributing sector to the overall big industry output — increased by 15.64pc, food, beverages and tobacco 11.71pc, coke and petroleum products 16.22pc, pharmaceuticals 12.15pc, chemicals 18.78pc, automobiles 47.81pc, non-metallic mineral products 26.08pc, fertilisers 6.99pc, paper and board 3.24pc, and iron and steel products 14.14pc during 11MFY21 compared to the same period last year. The sectors showing decline during July-May 2020-21 compared to July-May 2019-20 included electronics 5.76pc, engineering products 15.63pc, leather products 29.07pc, wood products 37.76pc, and rubber products 14.05pc. The production of sugar posted an increase of 16.55pc to 5.683m tonnes in 11MFY21 compared to 4.876m tonnes in the same period last year. On year-on-year it registered a 31.75pc growth in May. The production of petroleum products increased by 16.22pc to 12.968 billion litres in 11MFY21 from 11.158bn litres in 11MFY20. In May the output of this sector grew 4.15pc. Cement output soared to 48.36pc to 3.292m tonnes in May compared to 2.21m tonnes in the same month last year. However, it witnessed a 26.80pc growth to 45.137m tonnes in 11MFY21 over 35.598m tonnes produced in 11MFY20. In automobile sector, tractors production stood at 45,432 in 11MFY21, an increase of 59.03pc over 28,568 units produced in 11MFY20.
---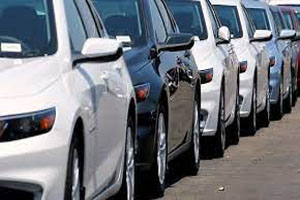 FY21 'recovery year' for auto sector
The last fiscal year (FY21) turned out to be a massive recovery period for the auto sector amid the ongoing Covid-19 pandemic as car sales soared by 56.7 per cent, followed by 19.7pc increase in trucks, 16.6pc in buses, 227pc in jeeps, 57pc in pickups, 55pc in tractors and 39pc in two- and three-wheelers. The entire auto sector remained bearish from March to May 2020 due to the Covid-19 restrictions including a countrywide locked down in April. Buying interest among consumers revived after the reopening of markets in June 2020 and since then, there has been no looking back for the sector. Car assemblers rolled out 18,154 units in June but sales stood at only 11,569 units in the month as buyers preferred to take the delivery of vehicles in July (first month of FY22) owing to expectation of a price cut on account of reduction in federal excise duty and general sales tax. Despite the 17pc drop in Toyota Corolla sales to 18,355 units from 22,140 units, country's total car sales remained brisk at 151,182 units in FY21 as compared to 96,455 units in FY20. Low interest rates of 7pc had changed the market dynamics thus luring buyers towards new locally-assembled vehicles and putting aside concerns relating to rising car prices, late delivery and high premiums on spot delivery. Sales went up on the back of low interest rates, reduced taxes and new models. Corolla mainly suffered because of shift of buyers towards Toyota Yaris whose sales reached 28,295 units in FY21 from 1,327 units from a year ago. Yaris came in the production line of Indus Motor Company (IMC) from May 2020. Honda Civic/City sales had swelled by 79pc to 25,276 units from 14,091 units while Suzuki Swift sales rose by 27pc to 2,316 from 1,828 units. The figures released by Pakistan Automotive Manufacturers Association (PAMA) added Hyundai Elantra from March 2021, with total sales standing at 855 units till the close of FY21 in June. In 1,000cc, Suzuki WagonR and Cultus sales surged by 81pc and 42pc to 12,659 and 17,510 units in FY21 from 6,984 and 12,307 units in FY20.
---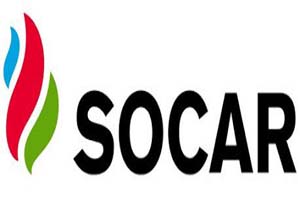 Socar hopes energy links with Pakistan will flourish
The State Oil Company of Azerbaijan Republic (Socar) appeared to be back peddling it's diplomatic push for oil and gas deals with Pakistan's public sector firms under government-to-government arrangement after an aggressive public snub by the Petroleum Division. A Socar spokesman said that various media reports appearing in the last several days did not represent the reality of successful cooperation between state entities of brotherly Pakistan and Socar. As in all sectors of political and economic life, relationships between Pakistan and Azerbaijan in the energy sphere are also built on principles of mutual respect and confidence, the spokesman said in a generalised statement. "In accordance with the inter-governmental agreement in the sphere of energy, links between the two countries continue in positive mode and grow in upward trajectory," said the spokesman, adding the fruitful results the two sides have witnessed in the recent years of this cooperation will be further strengthened in the years ahead as well. Earlier, Pakistan's ambassador to Baku had recently reported that Socar was complaining against Petroleum Division for continuous silence over its offers for oil and gas supplies, a situation not in the interest of bilateral relations. In response, Petroleum Division said in a statement that it did not avail Socar's offer for import of liquefied natural gas (LNG) on credit because its price was 'substantially expensive' than spot purchases and contract with Qatar Gas, did not provide any material financial benefit and earlier dealings with Socar were not encouraging. According to Ambassador Bilal Hayee, the Chief Operating Officer of Socar Toghrul Kocharli had approached him to inquire about GoP's response to the comprehensive proposal made by Socar in March this year for provision of LNG and petroleum products to Pakistan as a follow-up to discussions on prospective energy cooperation held during the visit of Azerbaijan's foreign minister to Islamabad in January. According to Socar representative, they have offered a detailed proposal for supply of LNG as well as petroleum products to the officials of Petroleum Division in March. The offer also includes separate credit lines of $120 million and $100m for 60 days for LNG and petroleum products respectively.
---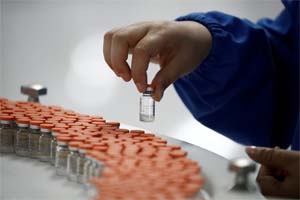 Cuba offers to establish vaccine production facility in Pakistan
In a major development for Pakistan in its efforts to enhance its pharmaceutical industry, the Republic of Cuba has offered to establish a vaccine production facility in Pakistan. Ambassador of Cuba Zener Javier Caro Gonzalez proposed this during his meeting with Federal Minister for Science and Technology . The development of a vaccine production facility will aid Pakistan in its efforts to curb the coronavirus pandemic, as the country's biotech and pharmaceutical industry is underdeveloped and produces few vaccines. Pakistan and Cuba also discussed the measures taken by their respective governments to combat the Covid-19 pandemic. Pakistan has seen a resurgence of coronavirus cases in recent days, with a highly contagious Delta variant of the novel virus quickly spreading. A total of 22,642 people have died from coronavirus since the outbreak of the pandemic in Pakistan. The country has also boosted its inculcation drive, and administered 525,000 doses on Tuesday, the highest number since it began its immunisation drive in February. Last month, Pakistan started producing the single-dose CanSinoBio COVID-19 vaccine with China's help. Branded PakVac, the vaccine was made at the National Institute of Health (NIH), which will be able to produce three million doses per month that would help in significantly reducing Pakistan's dependence on other countries for Covid-19 vaccine.
---


© 2021 Alpine Marine Services Private Limited
all rights reserved