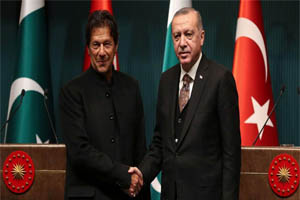 Turkish President Erdogan visit to Pakistan
Turkish President Recep Tayyip Erdogan arrived on a two-day visit to Pakistan on Thursday- Feb 13, along with a sizable delegation of business leaders for focused meetings that may fetch export and import orders for both sides. Prime Minister Imran Khan arrived at the Noor Khan airbase to personally receive the Turkish president along with members of the federal cabinet. The Turkish president was presented a guard of honour upon arrival at the PM House. Business to business interaction between Pakistan and Turkey took place on Feb 14. The Turkish president also addressed a joint session of the Parliament same day. On completion of tour Turkish President returned to his country.
---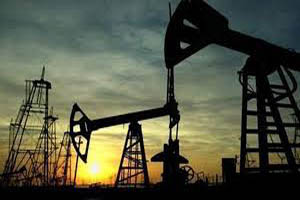 Shale gas & oil well drilled over 2,487 meters
Brisk drilling was in progress at the first shale gas and oil well near Hyderabad city of the Sindh province to acquire geological and engineering data for further planning of the pilot project. The drilling, started on December 14, 2019 at the Shale gas well. As of January 30, 2020 the well was drilled to depth of 2,487 meters that will be taken to 3,910 meters. A study, completed in collaboration with United States Agency for International Development in 2015, had identified massive deposits of shale gas and oil, which needed further evaluation to determine the cost of extraction. According to the EIA Shale Gas Assessment Report 2015 (USA); Pakistan has around 105 Trillion Cubic Feet of recoverable shale gas and 9.1 Billion Barrels of recoverable shale oil resources. The successful exploitation of shale gas could provide Pakistan with a sustainable supply of natural gas and oil (against EIA estimated recoverable gas resources).

---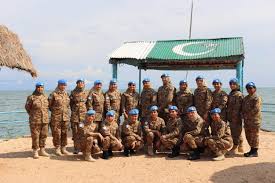 78 Pakistan Army women peacekeepers serving with distinction across the world
Blue helmets from Pakistan have a long and storied history with United Nations peacekeeping missions and the country is the third-largest contributor of personnel since participation began in 1960. Continuing this proud tradition of the Pakistani armed forces, 78 Pakistan Army women peacekeepers are serving under the umbrella of the UN in various roles across the world. The country also achieved the goal of 15pc women participation in UN peacekeeping missions in early 2019. Pakistan Army women peacekeepers are serving as part of Female Engagement Teams (FETs) and as staff officers at various headquarters. Pakistan was also the first country to deploy female engagement teams to Congo on June 19, 2019. Apart from two female engagement teams in Congo, a third team would commence operations from March in the Central African Republic. So far, around 450 women peacekeepers from Pakistan have served in UN missions.

---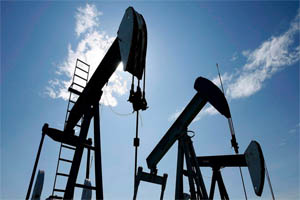 After 15 years: Pakistan may have found largest gas reserves
Amid a growing energy crisis which has forced the country to rely on imported gas, Pakistan may have found one of the largest hydrocarbon reserves, with potential deposits of one trillion cubic feet, in Balochistan's Margand block owned by Pakistan Petroleum Limited (PPL). Since 2000, no major discovery of hydrocarbon reserves has been made due to low wellhead gas prices and bureaucratic snags. Several companies pulled out of the country due to small hydrocarbon discoveries. Initial estimates based on the structure of the Margand block reveal that this block has one trillion cubic feet of reserves. Pakistan will save $900 million due to LNG import substitution if PPL flows reach 300 mmcfd, discovery in Margand block would be a game changer for the country. Of the existing gas reserves, 7% is depleting every year. Officials pointed out that domestic gas production had been static at 4 billion cubic feet per day (bcfd) since 2000. However, gas demand has increased manifold, causing shortages. The government is giving LNG to domestic consumers at prices 100% higher than the cost of domestically produced gas. However, this will lead to another financial crisis as the government will either have to give subsidy or will have to put the burden on consumers. A PPL spokesperson said that the drilling of Margand X-1 exploration well had not yet been completed. "The estimate of reserves cannot be made until the well is drilled to the targeted depth and subsequent tests are carried out," the spokesperson added.

---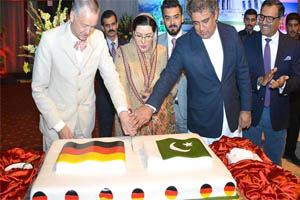 German businessmen to visit Pakistan
German Ambassador to Pakistan Bernhard Schlagheck has emphasised that Germany wants to further enhance bilateral trade relations and two business delegations are scheduled to visit Pakistan to explore collaboration with their Pakistani counterparts. Interacting with business community at the Islamabad Chamber of Commerce and Industry (ICCI), the ambassador elaborated that one German delegation would represent the water and sanitation sector while the other would be from the agriculture sector.
Schlagheck pointed out that bilateral trade between Pakistan and Germany amounted to over 3 billion euros with the trade balance in favour of Pakistan. He said Germany had advanced technology and its investors should come to Pakistan with technology transfer to help establish joint ventures for producing value-added products that would boost exports. He asked German investors to take benefit of these opportunities by investing in Pakistan. He cited IT and pharmaceutical sectors as the other potential areas for cooperation between the two countries.

---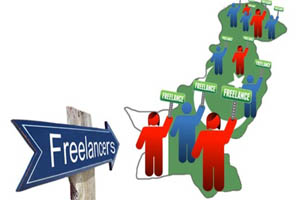 Amid unemployment, more Pakistanis begin freelancing
More Pakistanis have joined full-time freelance jobs, especially in the global information technology (IT) setups, in recent times when economic slowdown has rendered a significant number of people jobless in the country. "More freelancers are doing full-time freelance work in Pakistan," said Payoneer report 'The 2020 Freelance Income Report', which is based on a survey of more than 7,000 global freelancers from more than 150 countries including emerging market Pakistan. Three fourth, 75%, of the freelancers, do exclusive freelancing while only 25% take freelancing as a supplemental income source. Trends in freelance segment of Pakistan are at par with the global trend, as per the report. Pakistan's youth seems to enjoy the freedom to work from home. Although co-working spaces in the country are growing, 84% of the Pakistani freelancers prefer to work from home. Co-working space comprises of 4% of the total segment, while 3% use company office and 11% utilise private office. Meanwhile, 1% use coffee shops and other places to perform their duties. According to the findings, a significant proportion of young Pakistanis are opting to work freelance, which is more than the global average.

---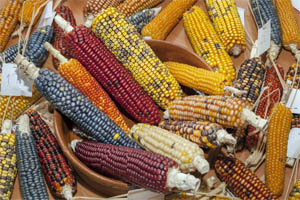 10 new maize varieties introduced
Ten new maize varieties developed by the International Maize and Wheat Improvement Centre (CIMMYT) have been released for commercial cultivation in the country. The Maize and Millets Research Institute (MMRI) in Yousafwala, being one of the leading and the oldest maize research institutes in Pakistan, released four open-pollinated varieties sourced from CIMMYT. The new varieties are the newest additions to the country's maize variety list. All these varieties are short-duration and can be harvested quickly to rotate land for the next crop. They can also be grown in the main and off season, which makes them suitable for many different cropping systems, CIMMYT announced. The Agricultural Research Institute (ARI) in Quetta received approval for six of CIMMYT's white kernel open-pollinated varieties from the Seed Council of Balochistan, a government body responsible for variety registration in the province. They are early-maturing with high yielding potential and drought tolerance. Drought stress is a major challenge for farmers in the Balochistan province, which covers almost half of the country's territory. Maize is Pakistan's third most important cereal following wheat and rice, encompassing an area of 1.3 million hectares. Despite its growing demand, maize production in Pakistan faces various challenges such as a lack of diverse genotypes suitable for various uses and ecologies, a weak seed delivery system unable to reach marginal farmers, high retail price of seeds and unpredictable weather conditions due to climate changes.
---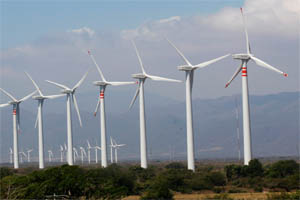 Danish firm keen to set up wind turbine factory
Denmark-based Vestas, a leading manufacturer of wind turbines, has expressed profound interest in establishing a wind turbine factory in Pakistan and has also started the groundwork for exploring the feasibility of the project. It was revealed in a meeting between a delegation of Vestas, led by Danish Ambassador Rolf Holmboe, and Federal Minister for Power and Petroleum. The delegation was briefed about the targets set in the new renewable energy policy in order to boost the share of renewable resources from 4% to 30% and it also ensured transparency by introducing a competitive bidding regime. The minister was told that the Danish company had decided to explore the possibility of establishing a manufacturing facility in Pakistan along with transfer of technology. The minister outlined the broad parameters of the new renewable energy policy and said by 2030 the country would have around 20,000 megawatts from the renewable resources.
---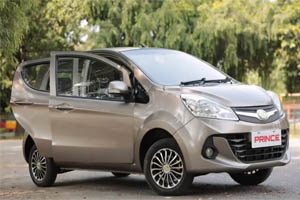 Sino-Pak joint venture launches locally assembled car
The fruits of the multi-billion dollars China-Pakistan Economic Corridor (CPEC) have begun ripening as joint ventures between Pakistani and Chinese companies have started entering the production mode. In this regard, the latest development is the entry of the Chinese automobile company Dongfeng Sokon (DFSK) through a joint venture with the local automobile company Regal Automobiles Industries Limited (RAIL). The joint venture recently launched a locally assembled 800cc passenger vehicle, Pearl Prince, in the market. According to the company officials, this car would be the country's most affordable variant in the category of 800cc cars. Previously, a Japanese car manufacturer enjoyed monopoly in this engine category. "This is the first time that a local company has taken a step forward to contribute to the country's economy while making sure customers get high-quality product at an affordable price," said Regal Automobiles Managing Director.
---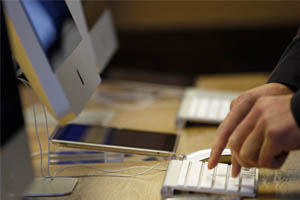 IT exports jump 19pc
Pakistan`s telecommunication, computer and information services exports jumped 18.5 per cent to $517 million during the first seven months of current fiscal year. The major chunk of that came under the software consultancy services as exports of the segment rose around 12pc to around $159m during the period under review. Following closely behind software consultancy, exports of computer software also rose 8.17pc to $129m, from $119m during the same period last fiscal year. With more than 5,000 IT companies providing services in around 100 countries, Pakistan`s information communication technology (ICT) sector is undergoing a boom as more than 10,000 application developers, freelancers enter into the workforce each year. IT sector can become a $10bn industry and it can create over a million new jobs within 5 years if the government makes growth-focused policies. With more than 30pc population under the age of 20, Pakistan can become the leading ICT exporters. The country has already been named as the favourite destination for freelance work. Pakistan`s overall services exports during the first five months rose 3pc to $2.165bn during the period under review.
---