Newsletter - Publication 96
01st Feb 2021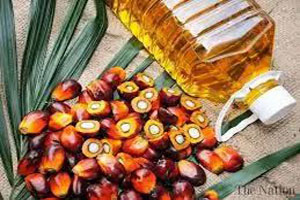 Palm oil valuing $1.111b, soyabean $48.309m imported in six months
Imports of edible oil including soyabean and palm into the country during first half of current financial year grew by 18.36 percent and 31.98 percent respectively as compared to the imports of corresponding period of last year. During the period from July-December, 2020-21, over 1,269,769 metric tonnes of palm oil costing $1.111 billion was imported in order to fulfill the domestic consumption of edible oil and vegetable ghee as against the import of 1,516,180 metric tonnes valuing $882.420 million of same period last year. Meanwhile, 72,756 metric tonnes of soyabean oil costing $48.309 million was also imported for tackling with the local requirements, which stood at 59,278 metric tonnes valuing $40.815 million in same period of last year, according to the data of Pakistan Bureau of Statistics.
---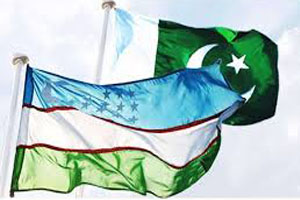 Pakistan, Uzbekistan to discuss PTA
Pakistan and Uzbekistan are set to make some headway on Preferential Trade Agreement (PTA) during talks scheduled on January 31. In this regard, Adviser to Prime Minister on Commerce and Investment held a meeting with Ambassador of Uzbekistan to Pakistan to discuss the visit of Pakistan's delegation to Uzbekistan. The delegation, which will be led by the adviser, will visit Uzbekistan from January 31 to February 4, 2021. The visit is a follow-up to the visit of Deputy Prime Minister of the Republic of Uzbekistan. During the visit a Memorandum of Understanding to establish a Joint Working Group on Trade and Economic Affairs was signed and it was decided that the first meeting of the Joint Working Group will be held in Tashkent at a mutually agreed time. During the visit to Uzbekistan, matters relating to trade, especially the trade agreement between the two countries will be discussed. The two countries are striving to enhance trade and regional connectivity. Uzbekistan shares borders with Turkmenistan, Kazakhstan, Tajikistan, Kyrgyzstan and Afghanistan. Improved connectivity and trade relations can open the doors for enhancing Pakistan's exports to Uzbekistan and beyond, which has a market of $90 billion.
---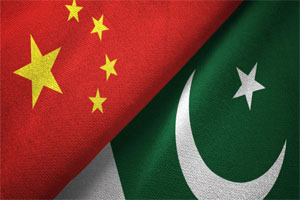 Pakistan, China launch new venture
Pakistan and China on Jan 26, embarked on a new venture as they established the first agricultural and industrial cooperation information platform in an attempt to promote in-depth business-to-business cooperation between the two countries. "As we enter the critical juncture of the China-Pakistan Economic Corridor (CPEC), the agriculture sector and industries will be our main focus," said Chinese Ambassador to Pakistan Nong Rong. Speaking at the inauguration ceremony of China-Pakistan Agricultural and Industrial Cooperation Information Platform, the ambassador said 2021 would mark the completion of 70 years of brotherly relations between Pakistan and China, and with the launch of the platform, "we will organise forums to display information to further strengthen business-to-business cooperation between the two countries". Endorsing Nong's views, Pakistan's Ambassador to China Moinul Haque said, "This platform marks one of the many activities planned for 2021." He added that the newly established venture would synergise efforts of agriculture sector and industries and said China's progress in the agriculture sector was worth emulating for developing countries like Pakistan. Highlighting the importance of agriculture in Pakistan, he pointed out that the sector contributed around 18% to the gross domestic product (GDP) and employed 38% of the workforce.
---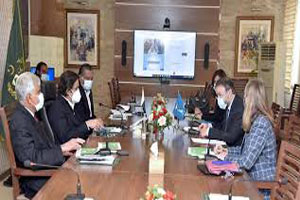 Pak-WB discusses government development priorities
Pakistan and World Bank on Jan 25, discussed the development priorities of the government of Pakistan for next five years and to seek guidance and views of Minister for Economic Affairs. Minister for Economic Affairs, held a consultative meeting with Country Director World Bank Pakistan, in Ministry of Economic Affairs, said a press release issued by Ministry of Economic Affairs here. The meeting was aimed to discuss the development priorities of Pakistan for the next five years and also to appropriately accommodate those priorities in the next World Bank Country Partnership Strategy for the period Fiscal Year (FY) 2022-26. The Country Director World Bank informed that the World Bank Group (WBG) has initiated the process of preparing a new Country Partnership Framework (CPF) for Pakistan that would outline its strategic support in the country for the next five years starting from FY 2022. He shared that WB had started countrywide consultations with key stakeholders, including government, parliamentarians, private sector, civil society organizations and development partners to gather diverse views from stakeholders on Pakistan's economic and social challenges and the ways in which the World Bank Group can support the government in addressing these challenges.
---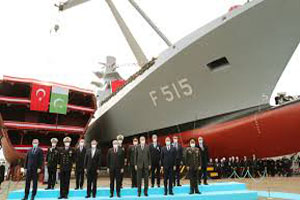 Erdogan launches welding of 3rd Milgem warship being constructed for Pakistan Navy
Turkish President Recep Tayyip Erdogan on Saturday (23 Jan) launched the welding of the third ship to be constructed for Pakistan Navy under the Milgem project. Ambassador of Pakistan in Turkey Mohammad Syrus Sajjad Qazi also accompanied Erdogan at the groundbreaking of the third out of a total of four Milgem Ada-class corvette for Pakistan Navy in Istanbul. Speaker of the Turkish Grand National Assembly, Minister of National Defence of Turkey, Chief of Turkish General Staff, Commander of Turkish Naval Forces, and other dignitaries attended the ceremony that also marked the launching of I-class Turkish Navy 'Istanbul' frigate. Speaking at the ceremony, President Erdogan said Pakistan is "our brotherly country with whom Turkey enjoys excellent relations". He underscored that the defence collaboration for the construction of Milgem class warships was another milestone in Turkey-Pakistan defence ties.
---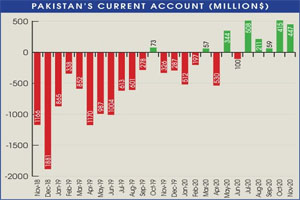 C/A turns negative in December after five-month surplus
After staying in surplus for five consecutive months, the country's current account posted a deficit of $662 million in December, data released by the State Bank of Pakistan showed on Jan 20. The current account was in surplus of $513m in November. On a year-on-year basis, the monthly deficit swelled by more than 130 per cent, data showed. The deterioration in the current account appears to originate from a sudden surge in imports in Janurary. Growth in goods imports last month was more than 32pc on an annual basis. In contrast, exports of goods recorded a nominal increase of 0.6pc, thus worsening the balance on trade in goods by more than 50pc in Dec. The current account reflects the country's total transactions with the rest of the world. A deficit suggests the nation is a net borrower. Cumulatively, the current account posted a surplus of $1.13 billion for the first two quarters of 2020-21 as opposed to a deficit of over $2bn in the corresponding period of the preceding fiscal year. However, according to the SBP data it was first time in the past decade that the country recorded a current account surplus for two consecutive quarters. Controlling the runaway current account deficit has been one of the key achievements of the government on the economic front.
---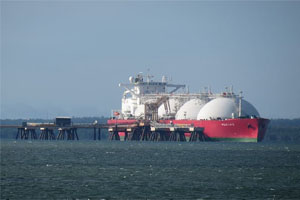 LNG shortage ramifications
As persistent gap is prevailing in local production of natural gas against demand, to fill this gap LNG is imported regularly. This shortage become acute with the arrival of winters, when the demand is all time high. Often significant swath of population experience gas outage in the name of load management, likewise, industrial and transport operators commercial and others also experience this closure. However, the year 2020 was a new experience for gas importing entity. According to details, Pakistan LNG Ltd (PLL) had advertised a tender on November 28, 2020 for the procurement of two spot LNG cargoes to be delivered in February 2021. The spot cargo scheduled for mid-February was awarded to SOCAR Trading UK Ltd while the second spot cargo planned for the last week of February 2021 was awarded to the lowest bidder as per PPRA rules. The liquefied natural gas (LNG) suppliers had refused to give supplies to Pakistan for the month of February in the wake of massive hike in the prices of gas during the period. The PLL approached the second and third lowest bidders within the bid validity period all of whom regretted to deliver the cargo at the prices they had offered in their bids. This bid default of the suppliers is associated with the supply shortages leading to high price volatility in the spot market coupled with extra buying in North Asia. It is worth mentioning that the dealers who have regretted to supply gas after bidding in the PLL tender include state-run entities and major international LNG traders. The PLL had received an all-time high bid at 32.48% of Brent to secure cargoes for the month of February. High bids were received for two LNG cargoes for slots of February 15-16, 2021 and February 23-24 from four LNG suppliers. The liquefied natural gas (LNG) supply defaults last week by two foreign state-owned companies — Enoc and SOCAR — came as a blessing in disguise to Pakistan as two urgent replacement tenders for February fetched about 16-18 per cent cheaper rates as international market plunged. Amid falling international market, Pakistan received significantly cheaper bids for three cargoes of liquefied natural gas (LNG) to be delivered in March under an urgent tendering process. The state-run Pakistan LNG Limited (PLL) had last week cancelled bids for LNG deliveries in March for three windows as prices in the international spot market started to crash. For replacement, the PLL went for a revised urgent tender on January 22 with deadline of January 26. The revised bids attracted 26 to 38 per cent cheaper rates when compared with the cancelled bids.
---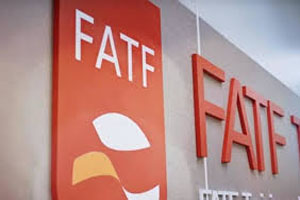 Importers bound to e-pay over Rs1m duty, taxes
In compliance with FATF requirements and as a measure towards digitation and automation of economy, the federal government has made it mandatory on all importers to make payment of duties and taxes exceeding Rs1 million through the e-payment system. From Jan 20, all duties and taxes over Rs1m will be paid only through the system of e-payment — internet/mobile banking, ATMs, over-the-counter (OTC) or any other electronic method approved by the State Bank of Pakistan. The taxpayers' confidence and interest in e-payment continue growing fast and it can be gauged from the fact that the proportion of e-payments of income tax, sales tax and Federal Excise Duty increased from 6.26pc of total payments during July-December FY20 to over 40pc during the same period of FY21. Similarly, the proportion of amount deposited in these e-payments has jumped from 13.55pc of total payments to 76.5pc during the comparative period of the current year.
---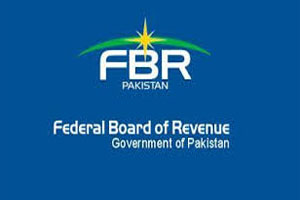 Border trade ranking improves to 111th: FBR
Pakistan's rank on the trading across border index jumped by 31 positions from 142nd to 111th due to considerably improved implementation of several measures, the Federal Board of Revenue (FBR) said on 19 Jan. The improvement is linked with the ongoing reforms that led to huge improvements in trading across the borders index. The announcement of the FBR did not mention the year in which the index was calculated. An official announcement said the FBR made trading across borders easier by focusing three crucial areas: enhancing the integration of various agencies in the Web-Based One Customs (WeBOC) electronic system; reducing the number of documents required for import/export clearances; and enhancing capacities of Pakistan Customs officials for playing pro-active role in smoothly regulating border trade. Climbing up the ladder in Trading Across Border Index has enabled Pakistan in jumping up 28 places – from 136th to 108th – in World Bank's Ease of Doing Business Index 2020 and securing a place among the top 10 countries that have done the most in the corresponding/past year to improve the ease of doing business in their countries. This milestone has led Pakistan to be the sixth global reformer and first in South Asia that has brought ease in doing business for the national/international trade.
---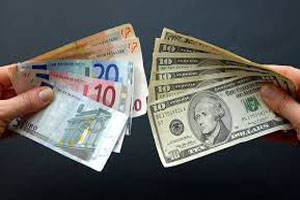 Foreign investment drops by 30pc in first half of FY21
Foreign direct investment (FDI) fell by 30 per cent in the first half of the current fiscal year, reflecting the impact of Covid-19 that is still affecting the country as well as global economies. The State Bank's latest data issued on Jan 18 showed the country received $952 million foreign investment during July-December FY21 compared to $1.357 billion in the same period of last fiscal year. In FY20, Pakistan managed to improve its track record as it received $2.561bn FDI compared to $1.362bn in the preceding year. However, the pandemic drastically impacted global economies suppressing any chance for Pakistan to attract huge amounts of foreign investment. The impact of heavy outflow from portfolio also played a key role in making the balance sheet poorer in the first half of FY21. The data shows that the outflow during July-December was $244m compared to a net inflow of $18.8m in the same period last year.
---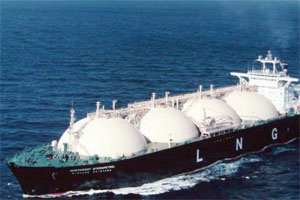 Provisional licences of virtual LNG pipelines granted
The Oil and Gas Regulatory Authority (Ogra) granted provisional licences of virtual liquefied natural gas (LNG) pipelines to two private companies — Daewoo Gas and LNG Easy — for supply of the fuel through bowsers to consumers outside the gas network. The licences would be valid for one year. These would be first of its kind projects in Pakistan to facilitate the supply of natural gas mainly to off-grid consumers. Ogra said the decision was a step towards gas market liberalisation, promotion of competition in the gas market, promotion of the country's economic growth and ensure reliable supply of energy to the consumers of natural gas. LNG Easy Pte Ltd, to be based at Karachi Port, and Daewoo Gas Pvt Ltd, to be located at Gwadar Port, would pursue LNG virtual pipeline project for supply of gas through cryogenic bowsers. At respective ports, the two companies would import LNG cargoes, fill, transport, market and distribute the fuel under the 'Integrated LNG Project Structure' as per the LNG Policy 2011. First-of-its-kind project to facilitate gas supply mainly to off-grid consumers Daewoo, a registered company in Pakistan, will establish an LNG terminal at Gwadar Port and supply the fuel through cryogenic bowsers to its customers on the concept of virtual pipelines. It is a wholly-owned subsidiary of Daewoo Pakistan Express Bus Service Ltd.
---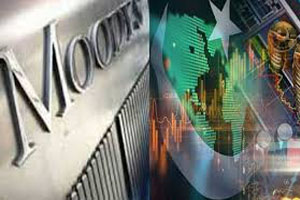 Moody's forecasts Pakistan economy will grow 1.5pc
Moody's Investor Service on Jan 13 forecast Pakistan economy will grow by 1.5pc during the current fiscal year and found Pakistani banks to be stable owing to government support but banking sector risks were growing. "Economic activity will remain below pre-outbreak levels, although the economy should return to modest 1.5pc growth in fiscal year 2021," Moody's said in its outlook for the Pakistani banking sector. This is generally in line with 1.5-2.5pc growth forecast for Pakistan GDP by the State Bank compared to World Bank's 0.5pc GDP growth rate for the current fiscal year. Long-term credit growth potential for Pakistani banking system was strong, given Pakistan's large unbanked population, the agency said. The stable outlook reflected banks' solid funding and liquidity, although a challenging — but improving — operating environment will weigh on asset quality and profitability. "Despite a difficult environment, the government's credit profile is stable due to ongoing reforms and increasing policy effectiveness — a positive for the banks given their outsized holdings of Pakistani government debt link their credit profiles to that of the government," said Moody's Senior Vice President Constantinos Kypreos.
---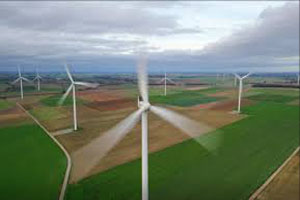 Sindh seeks federal approval for five wind power projects
Sindh Minister for Energy has urged his federal counterpart to ensure issuance of notification for five wind power projects, to be installed by independent power producers (IPPs) in the province, to encourage investors and promote clean power industry. The minister said in a letter to the federal minister that tariffs of the five wind power projects in Sindh had not been notified yet in the Gazette of Pakistan. He said that a delegation of local and foreign investors had contacted Sindh's department of energy for investment in wind power generation but this delay in procedural issues might discourage investment. He said the wind power projects awaiting tariff included; Norinco International Thatta Power, Iran-Pak Wind Power, Sino Well, Shafi Energy and Moro Power Company. He pointed out that it was clearly mentioned in Alternative Renewable Energy (ARE) Policy 2019 that share of renewable energy resources in the country's electricity resources should be 20 per cent by 2025 and 30pc by 2030. He said that under the policy, it was important to encourage renewable energy projects to achieve targets set by the policy as it would generate cheap electricity.
---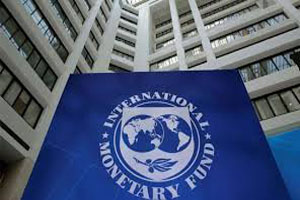 Pakistan plans to revive stalled IMF loan programme by increasing its power tariff
The Pakistan government has increased the power tariff by Rs1.90 per unit to revive the stalled IMF loan programme under the $6 billion Extended Fund Facility (EFF). Pakistan's circular debt will mount up to Rs2,805 billion till June end, according to a recent government projection. This will place the already depleting power sector into a severe cash constraint situation. A hike of Rs3.30 per unit had been agreed on by the government in phases. The first hike of Rs1.90 per unit is new year gift. Increasing the power tariff is a remedy multilateral creditors, including the IMF, World Bank and Asian Development Bank, have often suggested in the past. The PTI led government has already hiked the power tariff several times, but it has not helped.
---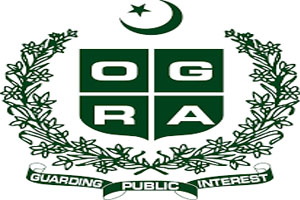 Ogra grants RLNG marketing licences to Tabeer, Energas
Overriding all objections from some private companies, the Oil & Gas Regulatory Authority (Ogra) granted marketing licences to Energas and Tabeer Energy for sale of regasified-liquefied natural gas (RLNG) to their customers. The licences would be valid for 10 years, starting Jan 8, 2021. Both applicants are stated to have their own customers in the private sector and would arrange LNG imports without any liability to the government by utilising pipeline network of gas utilities. Initially, they plan to also utilise spare capacity of the LNG re-gasification terminals.
---


© 2021 Alpine Marine Services Private Limited
all rights reserved